You no longer have an excuse for keeping your passwords and sensitive data on that password-protected Excel file. It's not convenient and it's not safe!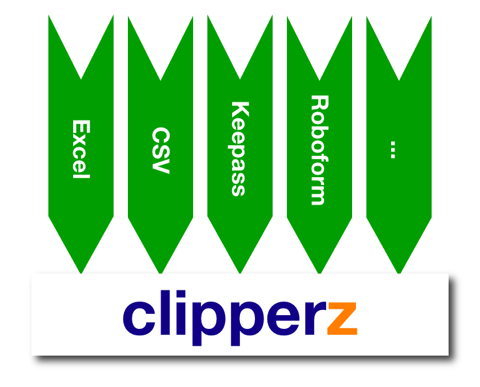 Now Clipperz password manager lets you quickly import from your Excel and CSV files. Similarly, you can now migrate your data to Clipperz from other password managers like Keepass, Roboform and PasswordPlus. The import process is straightforward, read more about it here.
But why move your passwords to Clipperz? Why prefer an online password manager? What's wrong with the password management functionalities of most browsers? What's wrong with software-based solutions? It's not just a matter of security, but mostly of convenience.
If you use multiple computers you need to properly sync your password collections on all of them.
Not all your passwords are related to web sites, sometimes you just need the admin password for your router.
If you are on the road it won't help having all your password stored on your pc at home.
…
Luckily most software programs provide export functionalities, often to a standard format like CSV, sometimes to a custom format. And even when no export capabilities are present, a solution can be found. As an example, consider the case of Firefox's password manager where you can use Password Exporter, a Firefox extension, to exports passwords as either an XML or CSV file.
In the future we are going to support even more formats and programs. Feel free to send in your requests.